Exercise is Medicine Ireland Webinar Series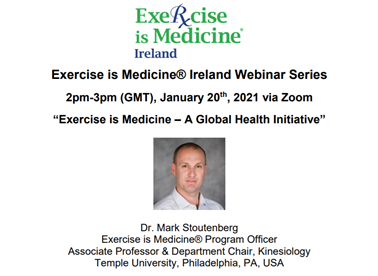 "Exercise is Medicine- A Global Health Initiative"
The American College of Sports Medicine (ACSM) co-launched Exercise is Medicine® (EIM) in 2007 with the American Medical Association. Ireland is EIM's 38th national centre around the world and was established by Dr Matthew Herring (Director) and Dr Brian Carson (Co/Deputy Director), of University of Limerick, in 2019. EIM Ireland hosted their first webinar of the 2021 series entitled "Exercise is Medicine- A Global Health Initiative". The webinar took place via Zoom, was co-hosted by the Physical Activity for Health Research Cluster in University of Limerick and reached about 100 attendees. Dr Matthew Herring opened the webinar providing some context to EIM Ireland and introduced the first speaker of the series, Dr Mark Stoutenberg (Philadelphia Temple University), EIM Program Officer.
Throughout the webinar Dr Stoutenberg described how EIM is 'a community-based extension of healthcare for at risk population groups (physically inactive people) that provides a cost-effective approach while providing a high level of care and support'. EIM is a global initiative with a vision to make PA assessment and promotion a standard in clinical care, connecting healthcare with evidence-based resources for people everywhere and of all abilities.
Dr Stoutenberg goes on to discuss the need for collaborative action between healthcare systems, community resources and active health technology as a core solution of EIM. Firstly, using the power of an integrated health systems to prescribe PA. The EIM Clinical Practice committee developed a prescription pad in 2016, which is available through their website, to enable doctors to quickly and generally prescribe exercise or make a referral to community PA resources. Secondly, the power of creating a physical activity network which enables and empowers patients to explore their options within the community as opposed to a one-size-fits all solution. However, EIM found to ensure there is an integrated approach between the referral systems there is a need for a navigator to 'follow-up' with patients' post-prescription. Finally, the use of active health technology across all stages of the patient engagement from assessment, prescription and referral all the way to the community program evaluation.
In summary, EIM requires a whole system approach to improve population level physical activity engagement. As such, the EIM Ireland National Centre has set out its initial goals as follows;
Promote physical activity as an integral part of disease prevention, care and cure
Educate health care providers and allied health professionals on assessing physical activity as a vital sign of health, provide brief advice or counsel and refer patients to qualified health or fitness professionals
Increase the number of individuals meeting national physical activity guidelines
Increase the number of referrals to community-based exercise programs
Establish EIM On Campus at all major higher education institutions
The next webinar titled "Exercise is Medicine in Advanced Cancer Patients: Very Much Alive" takes place on February 17th from 2-3pm (GMT) on zoom with guest speaker Dr Katie Schmitz, (Pennsylvania State University) Chair of Exercise is Medicine governance committee. To register for this webinar click here.
For more information on EIM visit exerciseismedicine.org or to if you would like to discuss more about EIM Ireland please contact Matthew (Matthew.Herring@ul.ie) or Brian (Brian.Carson@ul.ie) or check out Twitter @ExerciseisMedi3 for regular updates.