I-PARC Symposium @ 8th ISPAH Virtual Congress Vancouver 2021
For anyone attending this year's ISPAH Virtual Congress Vancouver 2021 the I-APRC team host a symposium on Wednesday, 13th October, 2021 from 9.20am – 10:50am (Irish time).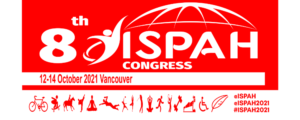 Symposium B1: I-PARC: A whole of system approach for enhancing effective interventions, implementation strategies, and enabling contexts to reduce population levels of physical inactivity
9:20 am – 10:50 am (London, England, Wednesday, October 13, 2021)
Joseph J Murphy | Catherine B Woods | James Lavelle | Sarah O'Brien | Peter Smyth | Colette Brolly | Marie H Murphy | Niamh Murphy | Paul Kelly | Femke van Nassau | Jemima Cooper | Fiona Mansergh
Purpose: The purpose of the symposium is to disseminate and translate the learnings from the Irish Physical Activity Research Collaboration (I-PARC; https://i-parc.ie). Using the physical activity (PA) landscape in Ireland, it will discuss how a collaboration between researchers, practitioners and policy makers generated relevant and valid intelligence to
determine what PA interventions work, why and in what contexts.
Description:
Chair/Discussant: Professor Catherine Woods, University of Limerick, Ireland. Despite known benefits and continued efforts to improve population levels of PA, insufficient numbers of children (13.5%), adults (34%) and older adults (33%) in Ireland achieve the recommended guidelines. A solution is to use effective interventions with effective implementation methods within enabling local or national contexts to achieve socially significant outcomes (i.e. reduced inactivity). However, this requires collaboration of key stakeholder from multiple sectors. I-PARC is such a collaboration, and with assistance from Scotland, the Netherlands and Australia current practices, policies and processes across Ireland have been evaluated, refined and developed to improve their effectiveness, implementation and yield a greater understanding of contextual factors.
Speaker 1: Professor Marie Murphy, Ulster University, Northern Ireland and Dr. Niamh Murphy, Waterford Institute of Technology, Ireland.
Title: Systems approach to physical activity based on the GAPPA framework – an example from Ireland. Knowledge translation between relevant stakeholders is essential for bridging the gap between practice, policy and research. Elements of the participatory action approach, guided by the GAPPA framework, were used to evaluate current PA promotion practices and suggest recommendations for improvement using a systems approach. Lessons learned on how to run an effective national collaboration to address inactivity will be discussed.
Speaker 2: Dr. Paul Kelly, University of Edinburgh, Scotland and Dr. Joey Murphy, University of Limerick, Ireland and University of Bristol, England.
Title: Effective interventions: Development of a standardised monitoring and evaluation framework for physical activity interventions. Many interventions for promoting PA exist, yet limited resources dictate that those that are effective and feasible for real world application are funded, scaled up and sustained longterm. Similarly, numerous evaluation frameworks to acquire this intelligence exist, yet few are used in practice due to feasibility issues. Through a 5-stage process that included online consultations, focus groups, and a pilot, the I-PARC evaluation toolkit for effectively evaluating PA interventions in the real world emerged and its challenging journey will be presented.
Speaker 3: Ms. Jemima Cooper, University of Limerick, Ireland and University of Bath, England, and Dr. Femke van Nassau, Amsterdam UMC, location VUmc, The Netherlands.
Title: Making physical activity interventions work: facilitators and evidence-based strategies linked with implementation success. Effective interventions rely on effective implementation strategies to reach their desired outcome. Consequently, it is crucial to understand the enabling and hindering factors to implementation success. Through I-PARC, data from a systematic literature review, surveys and interviews with various stakeholders involved in eleven different interventions have identified these factors and the recommendations for successful implementation of PA interventions.
Results:
Facilitating an effective multi-sectoral collaboration is challenging. Learnings include the chair's ability to manage multiple agendas around a common goal, generating acceptable protocols for operation, recognising positive outcomes, ensuring roles are clearly defined, and planning for sustainability.
The I-PARC evaluation toolkit will be presented highlighting the key learnings and challenges that emerged when developing a framework that is both feasible in practice and research acceptable.
Several factors that facilitate and challenge intervention implementation were identified. The I-PARC recommended strategies are presented under the headings of the Consolidated Framework for Implementation Research focusing on ensuring stakeholder buy-in, intervention usability, and staffing and financial considerations.
How the project adapted to the COVID-19 pandemic will also be presented, which include changes in data collection, hosting of the collaboration and continued engagement with the I-PARC members.
Participants will engage in opportunities to reflect on the I-PARC solutions presented, provide critique and discuss next steps.
Conclusions: The symposium will promote several ISPAH themes and topics, including advocacy with relevant stakeholders, the promotion of PA across the life-course, effective implementation strategies and the need for a whole of systems approach to PA promotion.
Keywords: implementation, collaboration, evaluation