MSc Opportunity: Sustainable Transport and Mobility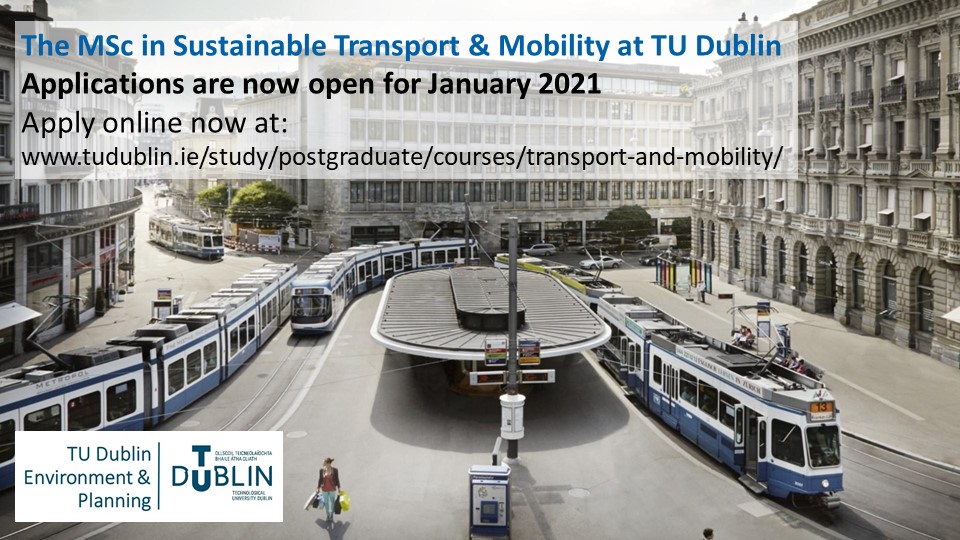 Applications are open for the MSc. in Sustainable Transport and Mobility (start in January 2021) at TU Dublin. Applications close on the 30th of November.
Course Details
The Master of Science in Transport and Mobility is a multi-disciplinary programme delivered by a team drawn from a range of professional backgrounds across the College of Engineering and Built Environment at TU Dublin. The programme is designed to be highly engaged, both with industry and civic society, encouraging current best practice and reflectiveness, and to facilitate new research and innovation in the field of transport planning.
At the core of the programme is the principle of sustainability and how integrated transport and mobility networks can be designed for the wider benefit of society, economy and environment. The programme provides learners with both a theoretical and practical framework but also a basis to develop knowledge and to critically reflect on current transport and mobility environments.
The aims and objectives of the programme include examining the context of enhancing mobility for resilient urban and rural environments and fostering equity and well-being for all. This in turn encapsulates the idea of planning and design for healthy communities and living streets.
The programme is intended for those who wish to engage in the planning, design, regulation and operation of sustainable transport and mobility networks. While many participants will already be practitioners and/or stakeholders in transport planning, it is a programme aim to bring a more diverse and wider range of skills into the transport planning profession in Ireland and internationally. Therefore it is envisaged that a wide range of backgrounds will be potential suitable in terms of the appropriate degree and relevant experience.