WHO Launch – 2020 Guidelines on Physical Activity and Sedentary Behaviour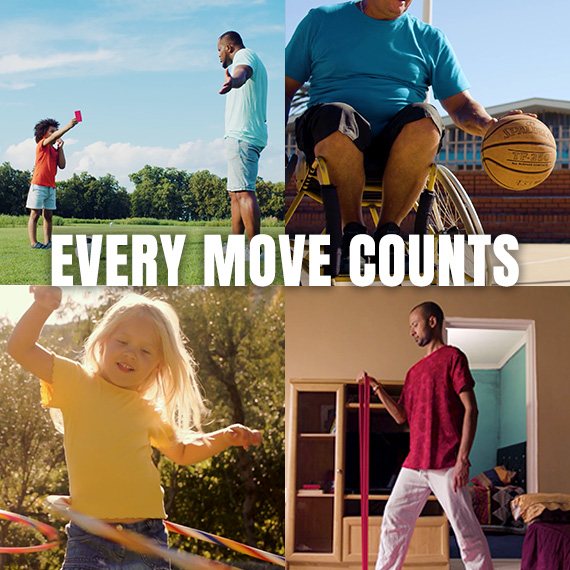 WHO Launch – 2020 Guidelines on Physical Activity and Sedentary Behaviour
On the 26th of November 2020, the World Health Organization launched the guidelines on physical activity and sedentary behaviour.
Four to five million deaths per year could be averted if the global population was more physically active. These global guidelines enable countries to develop evidence-based national health policies and support the implementation of the WHO Global action plan on physical activity 2018-2030. Action and investment in policies to promote physical activity and reduce sedentary behaviour can help to achieve the 2030 Sustainable Development Goals (SDGs), particularly Good Health and Wellbeing (SDG3), Sustainable Cities and Communities (SDG11), Climate Action (SDG13), as well as Quality Education (SDG4) among others.
This work provides guidelines for the following populations:
Children and adolescents (aged 5 – 17 years)
Adults (aged 18 – 64 years)
Older adults (aged 65 years or older)
Pregnant and postpartum women
Adults and older adults with chronic conditions (aged 18 years and older)
Children and adolescents (aged 5 – 17 years) living with disability
Adults (aged 18 years and older) living with disability
The guidelines are accompanied by 6 key messages.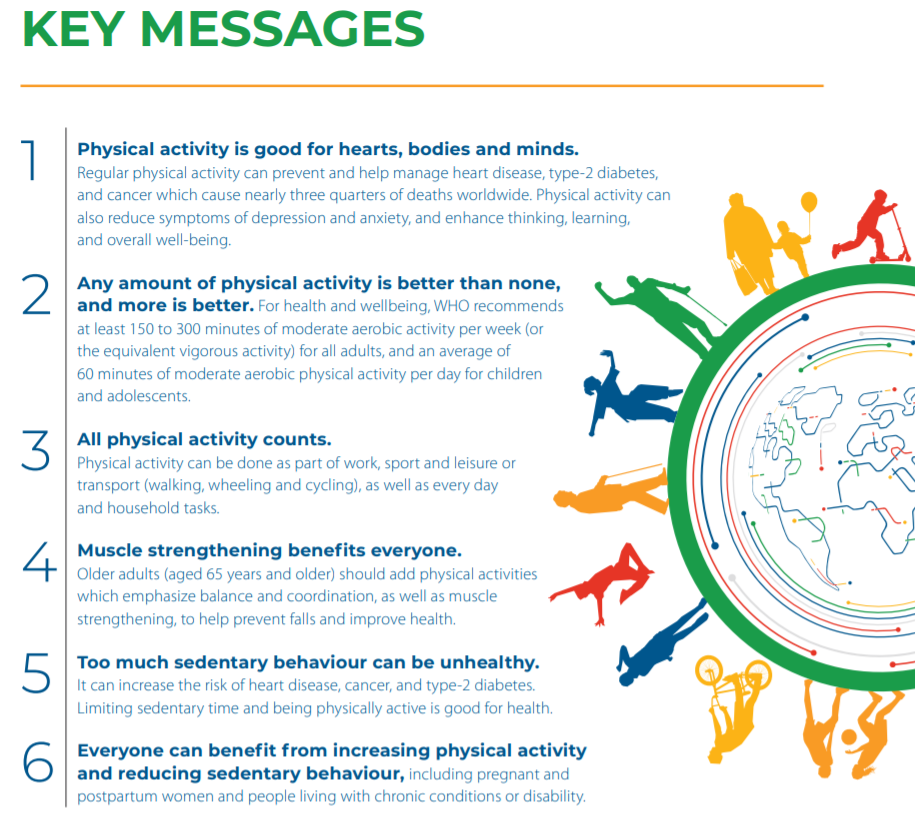 Where can I find more information?
One key message from the launch came from Professor Fiona Bull (WHO) – "the guidelines themselves will not change behaviour, but how we use them can". You are invited to not only read these guidelines, but to also communicate and use them in your own countries and regions.
Click on the links below to access the following resources regarding the WHO guidelines on physical activity and sedentary behaviour:
If you are interested in translating the guidelines in your country or region you might be interested in the I-PARC 2021 virtual conference. One keynote session will focus on "Physical Activity Guidelines: Getting the message right" with Prof. Charlie Foster, Dr. James Nobles, Ms. Chloe Williamson, Dr. Paul Kelly. Click here to find out more and register for this FREE event.