Collaboration towards the common goal of "Physical Activity Promotion"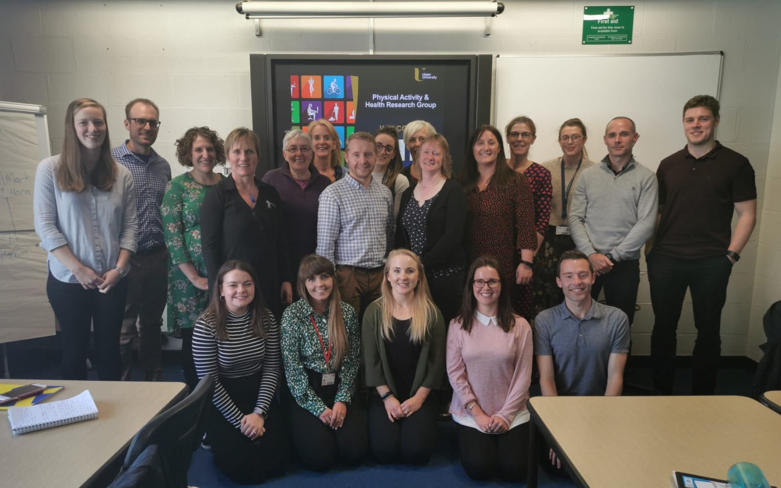 This month's featured blog post is from Dr. Angela Carlin, a Lecturer in Exercise and Health in the School of Sport at Ulster University. You can see more of Angela's work and interests by following @AngelaCarlin7 on twitter.
The 'Physical Activity and Health' research group at Ulster University recently hosted a successful research day, aimed at bringing together Ulster researchers working in the area of physical activity and providing opportunities to connect and network with other colleagues from Ulster, University of Limerick and University of Edinburgh. We were delighted to welcome Professor Catherine Woods (UL) and Professor Nanette Mutrie (Edinburgh), both visiting professors at the School of Sport, Ulster University, who shared details on the ongoing work of their research groups, alongside a number of researchers from UL.
Professor Marie Murphy (Professor of Exercise and Health, Dean of Postgraduate Research, Ulster University) started the day by highlighting the importance of collaboration and having the opportunity to explore research synergies across the 3 research groups. An enjoyable 'tour de table' gave colleagues an opportunity to share their current research interests, with a range of disciplines represented including Health Sciences, Optometry, Physical Activity, Psychology, Nutrition, Nursing and Sport.
Professor Catherine Woods (Chair in Physical Activity for Health, University of Limerick) delivered a lecture on the 'Move for Life' project, which prompted great discussion on the sustainability and scalability of physical activity interventions.
After an (active!) lunch break and a brisk walk led by Professor Mutrie, colleagues had the chance to discuss potential ideas for future research collaborations around a number of thematic area, including active aging and physical activity promotion within schools. These discussions provided an excellent platform for sharing current projects and future ideas, which we hope to move forward with together, building upon the strong collaborations to date. We would like to thank everyone for their attendance and participation on the day, and we look forward to welcoming Dr Paul Kelly (University of Edinburgh) to Ulster later this month for the next meeting of our Physical Activity and Health research group.
If you would like to find out more about research, courses and opportunities around physical activity and health at each institute, please click below:
Physical Activity and Health, Ulster University
Physical Activity and Health, University of Limerick
Physical Activity and Health Research Centre, University of Edinburgh
Thank you for reading.