Event Alert: Physical Activity and the Pandemic : Lessons for older adults and health professionals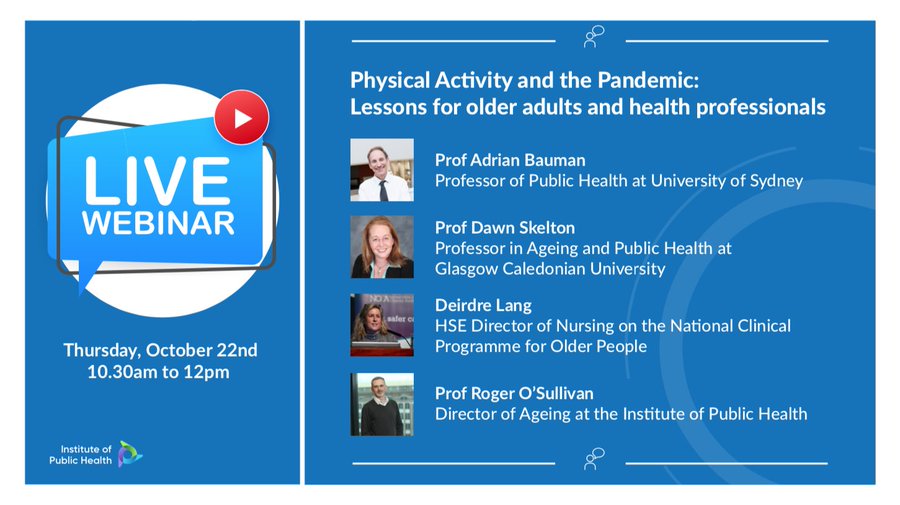 Keeping active and well as we grow older is a key challenge for public health. This event, hosted by the Institute of Public Health, will focus on the value of sustaining physical activity as we get older and how to support populations to do so. Speakers from Ireland, the UK, and Australia will share evidence, policy and best practice. The webinar will have a key focus on challenges faced in keeping populations active during the COVID-19 pandemic.
The webinar will be relevant to stakeholders with responsibility for public health in Ireland and Northern Ireland; health professionals; policymakers; national and local government; Healthy Ireland and Making Life Better networks; the community and voluntary sector; the research and academic community; and people with an interest in how to stay active.
Moderator: Prof Roger O'Sullivan, Director of Ageing Research and Development, Institute of Public Health
Speakers include:
Prof Adrian Bauman, Professor of Public Health at University of Sydney
What works for getting and keeping older adults active
Prof Dawn Skelton, Professor in Ageing and Public Health at Glasgow Caledonian University
Translating physical activity guidelines for older adults
Deirdre Lang, HSE Director of Nursing on the National Clinical Programme for Older People
Lessons from the Get Up, Get Dressed, Get Moving campaign
Other speakers to be confirmed
There will be a panel discussion and the opportunity to ask questions on the day. You can also submit questions in advance by emailing communications@publichealth.ie
CPD accreditation pending
Webinar Registration: https://zoom.us/webinar/register/WN_BY1XMJ2jRMeqV0Qr8kUJew