Re-imagining Our Cities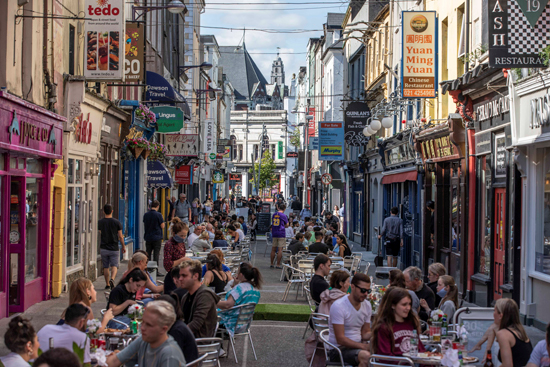 This blog contribution comes from Shirley O'Shea, Senior Health Promotion Officer, Health Service Executive.
The global COVID-19 pandemic has drastically changed the way we live, work, socialise, get around and interact in our towns and cities. How we respond to this new challenge has not only changed our usual participation in organised sport but has provided opportunities for people to increase their everyday physical activity in response to operating within new regulations. This provides a unique opportunity to reflect on how we design and build our towns and cities to ensure that people are encouraged and supported towards a more environmentally sustainable place to live with a focus on walkable streets and connectivity.
During the COVID restrictions many of us made the most of our local neighborhood for our daily exercise. When our movements were restricted we were eager to be out walking, jogging, cycling, swimming, and many people I know commented on how they had got to know new places in their own communities and that they had connected more with nature. From my perspective, more children and families were cycling as the traffic decreased and made roads safer, quieter and a more enjoyable experience. The term 'liveable' cities is now more important than ever, with a shift in mind set needed from a car dependent nation to one where we move towards greener cities that incorporate more trees and open spaces, green buildings and biodiversity. Liveable cities seek to understand more about the different ways that people move around a city, with the improvement of networks that support such movement being key to creating cities people want to live in, feel safe whether young or old and make active travel enjoyable and convenient. The priority is for pedestrians and cyclists of all ages and abilities to be able to negotiate the city safely, through new spatial and infrastructure arrangements such as wider footpaths, connected bike paths, dedicated bike lanes and suitable bike parking some of the examples.
Re-imagining a car-busy street as a livable space that incorporates more trees, open spaces and makes active travel more enjoyable and convenient.
For me, some of the key questions include:
How can these changes shape our behaviour and influence daily physical activity?
What is the potential for a city that has a range of affordable leisure and recreation spaces to support physical activity for people of all ages and abilities?
Possible answers to these questions may come from the many cities that are re-imagining the use of places and spaces around towns and cities. Cork is one of the many cities that have acknowledged a need for 're-imagining' with consultation and collaboration with a broad range of stakeholders on the new City Development Plan. The programme for Cork includes:
€1.5 million repair of 6 kilometers of existing cycle lanes
Installation of bollards on 4 kilometres of key cycling routes
4.1 kilometres of new cycle lanes
Construction of 43 bike racks which can accommodate approximately 500 bikes
As part of the WHO Healthy Cites, Cork is striving to make a more 'Playful City' as part of a broader European Project called Playful Paradigm – a great example of a Play Event is 'Play on the Marina' in Blackrock, which was trialled with great success during Urban October 2018, with support from Cork Sports Partnership. High quality children's playgrounds, outdoor play spaces, skateboarding parks, are other examples of components that support a playful and active community.
In the case of Playful Streets, it involves simply discouraging vehicular traffic from using the road during specific times, thus encouraging families to use the street for play and recreation. Imagine the impact on physical activity levels if we designated the area outside schools to remain entirely traffic free for the 30 minutes leading up to the beginning of school? This has the additional benefit of improving air quality around schools, where young children are particularly vulnerable. 'School Streets' would encourage much needed activity before the school day even starts, however this would need a huge culture shift on how we transport our children to school in Ireland.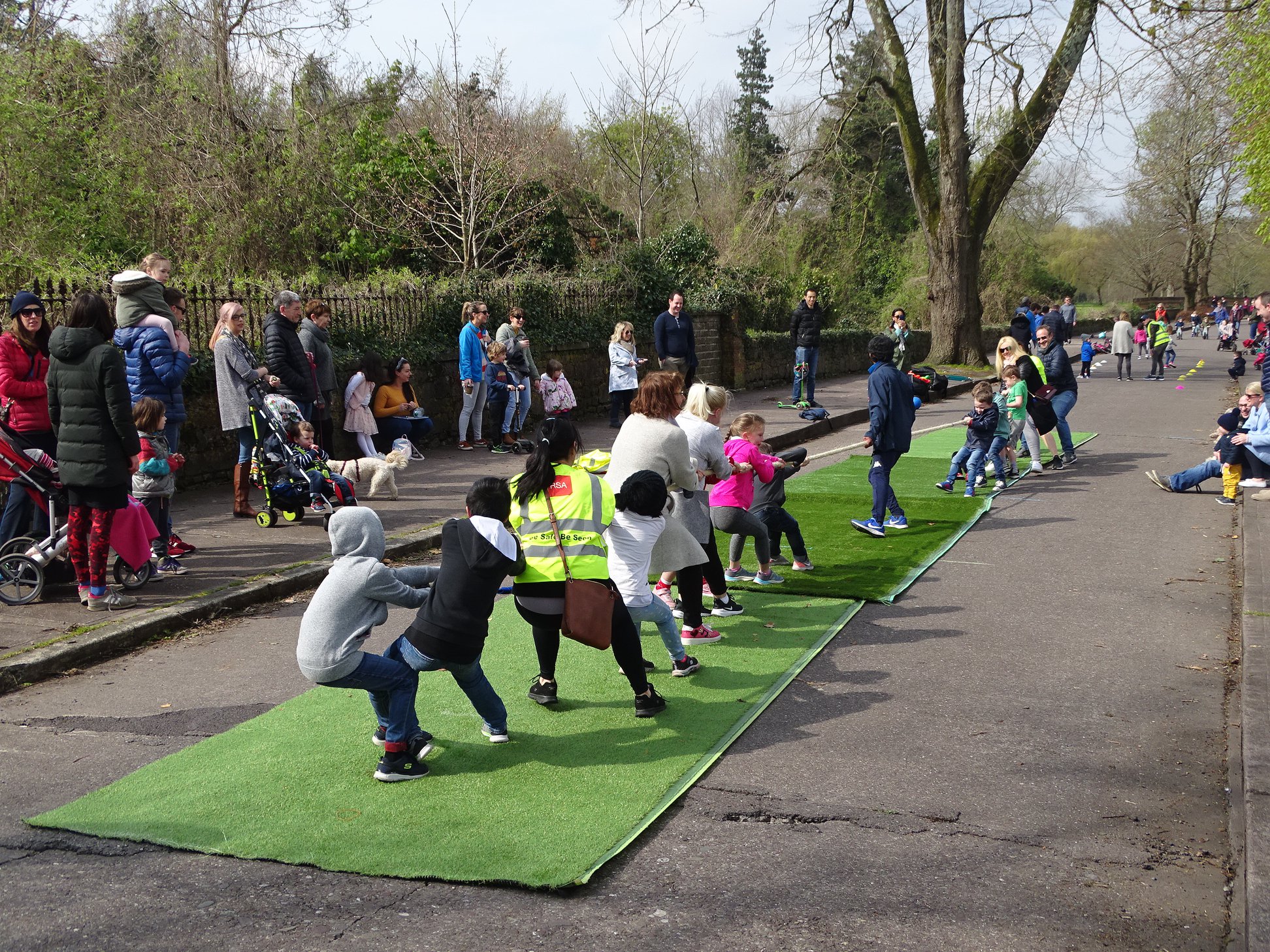 Activities taking part on a "Playful Street".
Communities and schools are encouraged to reclaim spaces in their neighbourhoods for play and games. This draws on examples from across the country and particularly in the United Kingdom where local authorities have supported the practice. Gil Penalosa from 8 80cities recently said about London's plans to make it the largest car free city in Europe that 'lockdown was the opportunity of a lifetime for bike lanes"
For me, the response to the threat of COVID-19 represents a watershed moment for Cork and many other cities around the world. Let us hope it will transform this challenge into an opportunity.
Other related topics that readers may find interesting include:
"Re-imagining Cork City" programme information: https://www.corkcity.ie/en/council-services/news-room/latest-news/-re-imagining-cork-city-programme-unveiled-today.html
Article on tactical urbanism and reimagining cities post COVID-19: https://www.archdaily.com/940877/tactical-urbanism-reimagining-our-cities-post-covid-19
Thank you for reading this blog – I-PARC Team