I-PARC Annual Conference 2023 – Registration Closing soon!!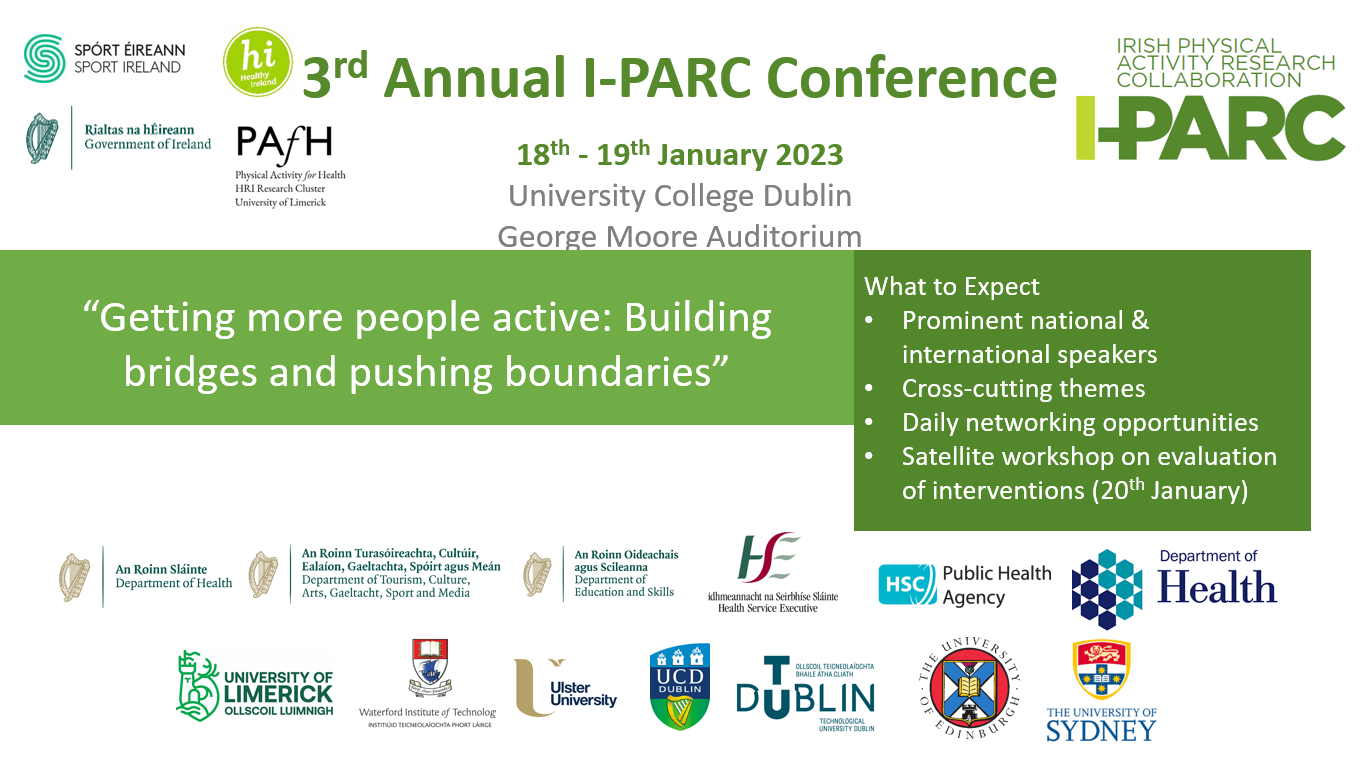 We are delighted to announce an excellent programme for our upcoming annual I-PARC Conference, "Getting more people active: Building bridges and pushing boundaries". Registration for the event will be closing soon, the event takes place in the George Moore Auditorium at University College Dublin on the 18th and 19th of January, 2023. Since the conference has limited capacity, early registration is encouraged. Cost of registration is only €30 and includes coffee/tea, pastries/fruit on arrival and lunch.
Registration Link: https://www.eventbrite.com/e/3rd-annual-i-parc-conference-tickets-480023933507
The conference will bring together researchers, practitioners and policy makers and will consist of two days of presentations, panel discussions and breakout sessions. Those in attendance can expect to hear from Irish and International keynote speakers, researchers and physical activity professionals who will share their knowledge about creating supportive environments and implementing best practices for physical activity promotion across a range of settings.
Topics over the 2 days include:
Physical activity policies and systems
All Island collaboration for physical literacy and physical activity
Improving access to spaces and places for physical activity
Addressing the Sustainable Development Goals in physical activity and sport
Arts-based approaches to physical activity promotion
Fostering equity, diversity and inclusion in physical activity and sport
Encouraging active mobility/transportation and use of green routes
Improving opportunities for physical activity for people living with chronic conditions
Innovative ways of engaging with hard-to-reach groups
In addition, Conference participants will have the option to register for a workshop on the I-PARC Evaluation of Physical Activity Interventions Toolkit, which will take place at the same venue on the 20th of January (9:00am-13:00pm). Since attendance is limited to 20 places, early registration is encouraged as well. Cost of registration is €10 and includes coffee/tea, pastries/fruit on arrival.
For further information please contact:
Dr Enrique Garcia Bengoechea; egarcia@sportireland.ie
Coordinator, Irish Physical Activity Research Collaboration (I-PARC)