I-PARC Annual Conference 2023 – Registration Now Open!!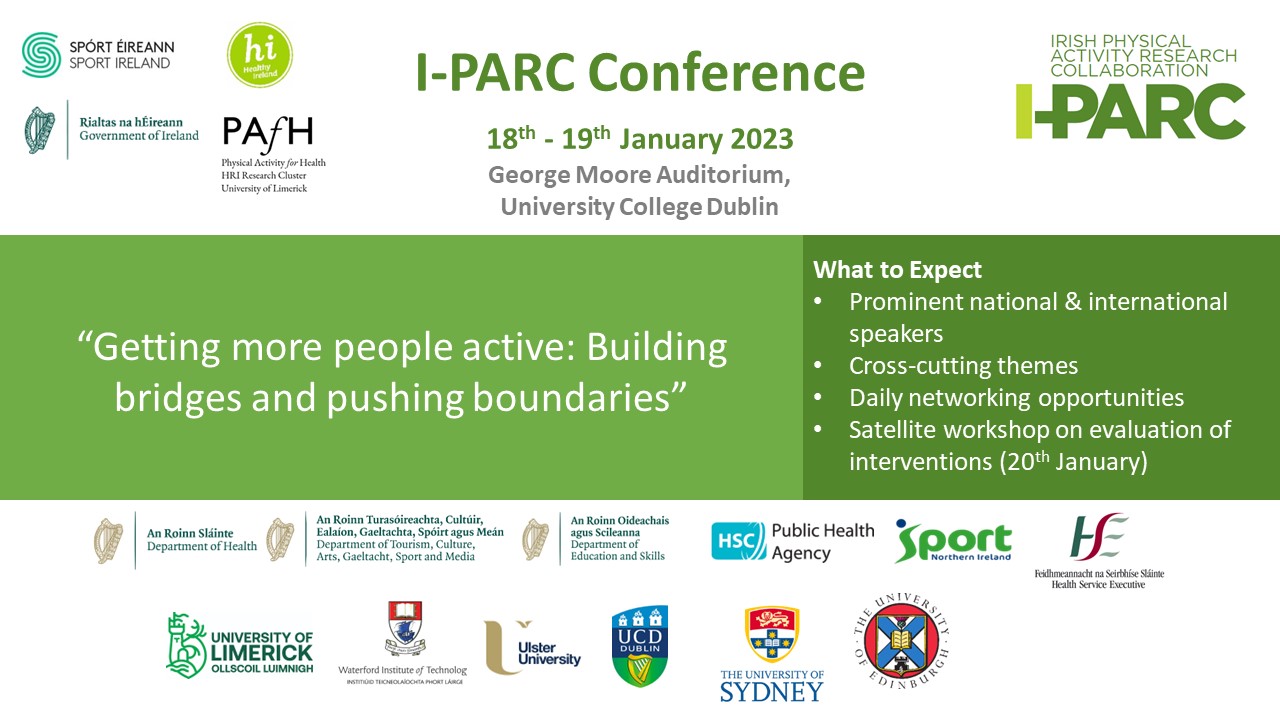 The Irish Physical Activity Research Collaboration (I-PARC) will soon open registration for its upcoming Annual Conference, "Getting more people active: Building bridges and pushing boundaries",  will take place in the George Moore Auditorium at University College Dublin on the 18th and 19th of January. Since the conference has limited capacity, early registration is encouraged. Cost of registration is only €30 and includes coffee/tea, pastries/fruit on arrival and lunch.
The conference will bring together researchers, practitioners and policy makers and will consist of two days of presentations, panel discussions and breakout sessions. Those in attendance can expect to hear from Irish and International keynote speakers, researchers and physical activity professionals who will share their knowledge about creating supportive environments and implementing best practices for physical activity promotion across a range of settings.
Topics over the 2 days include:
Physical activity policies and systems
All Island collaboration for physical literacy and physical activity
Improving access to spaces and places for physical activity
Addressing the Sustainable Development Goals in physical activity and sport
Arts-based approaches to physical activity promotion
Fostering equity, diversity and inclusion in physical activity and sport
Encouraging active mobility/transportation and use of green routes
Improving opportunities for physical activity for people living with chronic conditions
Innovative ways of engaging with hard-to-reach groups
Speakers already confirmed for the event include:
Michael Pratt – University of California San Diego, Global Observatory for Physical Activity
Anna Lowe – National Centre for Sport & Exercise Medicine, Sheffield Hallam University
Peter Gelius – WHO Collaborating Centre for Physical Activity and Health, Friedrich-Alexander University of Erlangen-Nuremberg
Flora Jackson, Public Health Scotland
Suzanne McDonough – Royal College of Surgeons of Ireland
Tadgh McIntyre – Maynooth University
Joey Murphy – University of Bristol
Michael Boyd – Human Rights Commission of Northern Ireland
Noel McCaffrey – (ExWell Medical)
Catherine Woods – PAfH, University of Limerick
Nora Stapleton – Sport Ireland
Des Thomlinson – Football Association of Ireland
Hanna Goss – Dublin City University
Sinead Connolly – Ulster University
Kathleen Jacobi – Transport Infrastructure Ireland
Tracey Lydon -An Taisce, Green-Schools
James Green -University of Limerick
Mary Harkins – Age and Opportunity
Emer Coveney – Age Friendly Ireland
Ceara O'Connor – Rowing Ireland
Seamus Nugent – Kilkenny Recreation and Sports Partnership
Amanda Clifford – University of Limerick
Aoife Lane -Technical University of the Shannon
Aurélie Van Hoye – University of Lorraine and University of Limerick
Julie Broderick – Trinity College Dublin
Roisin Calahan – University of Limerick
Vikram Niranjan – HSE and University College Dublin
Dearbhla Jordan – Sport Ireland
Ailís McSweeney – The Sanctuary Runners
Helen Ambrose – HSE South
In addition, Conference participants will have the option to register for a workshop on the I-PARC Evaluation of Physical Activity Interventions Toolkit, which will take place at the same venue on the 20th of January (9:00am-13:00pm). Since attendance is limited to 20 places, early registration is encouraged as well. Cost of registration is €10 and includes coffee/tea, pastries/fruit on arrival.
Registration Link: https://www.eventbrite.com/e/3rd-annual-i-parc-conference-tickets-480023933507