Reflections from I-PARC 2023 Conference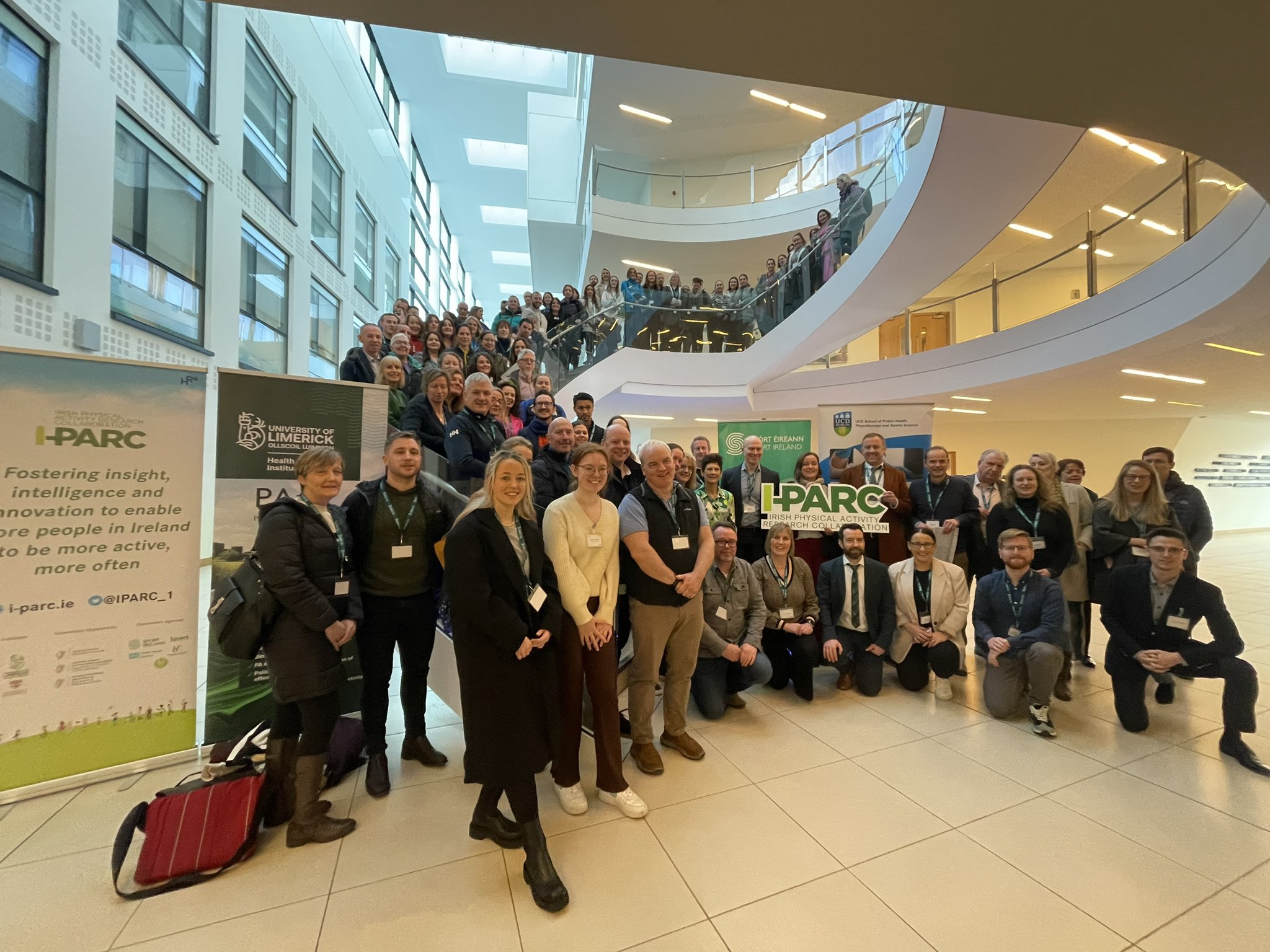 The field of physical activity (PA) and sport is gradually growing in terms of knowledge and good practice. There is a clear example of this in the research and actions put into practice in Ireland in recent years. Furthermore, there is a rich collaboration between different experts that allows the creation of a national network. That is the idea of the Irish Physical Activity Research Collaboration (I-PARC), an alliance that aims to establish a collaboration of researchers, practitioners and policy makers to inform the successful implementation of effective physical activity initiatives. To help facilitate cross-sectoral collaborations and enhance networking in the area of physical activity, I-PARC created its annual Conference. This years conference was introduced by Dr Una May (CEO of Sport Ireland), Colin O'Hehir (Department of Health, Healthy Ireland), and supported by both, Minister Hildegarde Naughton (Ministry of State for Public Health) and Minister Thomas Byrne (Ministry of State for Sport and Physical Education).
The conference brought together national and international experts in the area of PA and sport. Researchers such as Prof. Michael Pratt (Palacky University, GoPa!/University of California in San Diego, US) and Prof. Peter Gelius (Friedrich Alexander-University, Germany) presented on the importance of policies for the enhancement of PA in the whole-community. Dr. Anne Lowe (Sheffield Hallam University, UK) and Flora Jackson (Public Health Scotland, UK) highlighted the importance to modify the physical environment and the use of system-based approach to change population's PA behaviours, while Dr. Tadgh McIntyre (Maymooth University) showed the relevance of the natural environment for people's health and physical activity. Additionally, Antti Blom (LIKES, Finland) gave an overview of the highly relevant and impactful Finnish National project "Schools On the Move", where schools from the whole territory have contributed to enhancement of PA in children.
The breakout sessions on the first day were full of information on PA-based projects and tools. Thus, some speakers brought evidence on PA interventions policy. Prof. Catherine Woods and Kevin Volf delivered an instructive presentation on the innovative PA-EPI tool for the evaluation of PA interventions implementation. Furthermore, policy was also well explained by Dr. Joey Murphy focusing on the use of a systems approach, and Michael Serneels showed the use of policies in the European Union through the European Union Plan for Sports. Some others presented their work for the achievement of the Sustainable Development Goals. For example, Dr. Lorraine Darcy highlighted the importance of active and more sustainable means of transport, and their social and the health-cost reduction in comparison with the use of motorized transport. Des Thomlinson (FAI) gave an emphasis to inclusive sports schemes such as the Association of Power Chair Football, Urban Youth Blitzers, City Futsal Leagues, My Club afterschool programme, Walking Football as a sport for hard to reach population, or the International Football Plan. A special mention should be made to the Sport Inclusion Network (SPIN), especially focused on ethnic minorities, migrants and women. Dearbhla Jordan presented policy-related work in the national context such as the Sport Action Plan 2021-2023, or the Ireland's Second National Implementation Plan for the Sustainable Development Goals 2022-2024. Catherine Carty showcased the work from TRUST Ireland, where they advocate for human rights and accessibility for all people through PA, while Ceara O'Connor noted how rowing is being used as a means to achieve gender equity. Seamus Nugent presented the relevance of the Kilkenny Recreation and Sports Partnership (KRSP) for a better understanding of needs of the LGBTQ+ community. Finally, Will Andrews gave an emphasis on addressing the gap between research, policy, advocacy and practice to promote cycling. He reflected on citizens perception for the use of bicycles, as well as the work performed by the Irish Cycling Advocacy Network.
As for the breakout sessions on Day 2, there were three speakers contributing to hard-to-reach population actions and evidence. Prof. Mark Tully highlighted four relevant steps to address those groups: identify the target audience, address socio-ecological determinants, target/tailor interventions and engage communities; Dr. Julie Broderick presented the initiative DEPAUL, which aims to improve the quality of life in the homeless; and Ailís McSweeney introduced the Sanctuary Runners, a sport-based initiative that pursues social inclusion, especially through running and swimming activities and events. Another breakout session focused on the encouragement of active mobility: Kathleen Jacobi outlining  the importance of perception of mobility according to gender and how active mobility could be enhanced among women; Cynthia O'Mahony showed the aims and progress of the Safe Routes To School (SRTS) Programme through their provision of delivery plans to local authorities; and Dr. James Green introduced the ISCycle initiative to enable an active and more inclusive and sustainable mobility by the use of a great variety of electric bicycles. One of the final breakout sessions had both Cormac MacDonnell and Nora Stapleton from Sport Ireland showed how to apply design thinking to foster innovation in PA and sport through a dynamic combination of instructive speech and workshop. Some of their initiatives could be highlighted, such as "Skate Squat", "Her Moves", and "Girls Get Active Hackathon", among others.
The conference highlighted the variety of programmes and the ample work being done by experts across different sectors and from different backgrounds in the promotion of PA, but also as a means to improve health, acceptance, social inclusion and equity. Moreover, the conference also highlighted the need for a wider and more in-depth knowledge on systems-based approaches and policies to enhance the impact of PA programmes and interventions at population level. It was a welcomed return to a face-to-face conference for I-PARC allowing for an exchange of knowledge, expertise and networking. Hopefully, we will keep having more of these events in the coming future.
Author :
Iván Pinilla-Quintana supports the Physical Activity for Health (PAfH) research cluster. Currently, he is a PhD candidate and holds a position as a research officer for the research group on Physical Activity Promotion for Health (PAFS group), at the Faculty of Sport Sciences, University of Castilla-La Mancha.
Twitter: @IP_Quintana / ORCID: https://orcid.org/my-orcid?orcid=0000-0002-6520-8916 / LinkedIn: https://www.linkedin.com/in/iv%C3%A1n-pinilla-quintana-b9b116a9/