Integrating Exercise Practitioners into Outpatient Mental Health Services in Ireland: Evaluation and Service Model Launch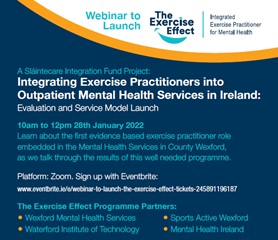 Integrating Exercise Practitioners into Outpatient Mental Health Services in Ireland: Evaluation and Service Model Launch
10am to 12pm 28th January 2022
Learn about the first evidence-based exercise practitioner role embedded in the Mental Health Services in County Wexford, as we talk through the results of this well needed programme.
Platform: Zoom.
Sign up with Eventbrite: www.eventbrite.ie/e/webinar-to-launch-the-exercise-effect-tickets-245891196187
The Exercise Effect Programme Partners:
– Wexford Mental Health Services
– Sports Active Wexford
– Waterford Institute of Technology
– Mental Health Ireland
Keynote Speakers:
The Minister of State for Mental Health and Older People, Mary Butler TD will give an opening address and launch the evaluation report.
Sarah O'Brien – National Lead: Healthy Eating & Active Living Programme, Health & Wellbeing, Strategy & Research, Healthcare Strategy HSE
Dr Brendon Stubbs – Senior Clinical Lecturer and NIHR Advanced Fellow Institute of Psychiatry, Psychology and Neuroscience, King's College London; Physiotherapist South London and Maudsley, NHS Foundation trust, UK.
Dr Evan Matthews -Lecturer and Researcher in Physical Activity & Health Promotion, Co-investigator 'Exercise Effect' project, Waterford Institute of Technology, Ireland.
Excerise Effect Launch invite